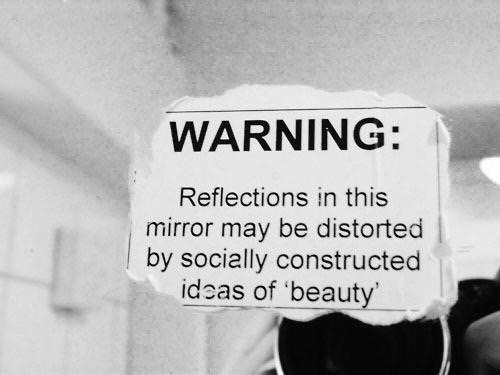 If you ever have said to yourself or out loud, "I'm so fat. I'm so ugly." Or any other insult to yourself. GO RIGHT NOW, right this minute! Look in a mirror and tell yourself out loud. "I am sorry for saying those mean things to you. They are unacceptable. I am beautiful because, I am human, I have a soul." Then watch these videos attached that I love. One is a full blown photoshopping edit to a model to make her look "picture perfect". The other, Jean Killbourne talks about airbrushing craziness. One of my favorite quotes from this is by CINDY CRAWFORD, who says, "I WISH I LOOKED LIKE CINDY CRAWFORD."


I don't have statistics, but I know more than half our problem with our flawed body image is because of societies thought of "beauty". I have witnessed plenty of friends and family growing up, and I know this has affected my own body image. I remember being a teen and sitting around with my three close friends looking at models in Vogue and actresses in teen and gossip mags, admiring them and all of us attesting, "I am going to look like that". Then to confirm we need to look like a that supermodel we would overhear the boys or males in general (not their fault), whooping and yee-haa-ing over what they considered sexy, while they tacked posters of Paulina Porizkova or a chick laying suggestively on a 1965 Mustang Convertible, over their beds.


I specifically remember reading in a fitness magazine, which suggested as a daily motivational reminder not to eat junk, workout, and to hang a picture of a body I want to look like from a magazine on the refrigerator. Great advice, except that it should have come with a warning, "MOST LIKELY, THIS IS NOT HOW THIS BODY LOOKS IN REAL LIFE". I was not aware that all those sexy, skinny bodies with the hallowed out cheek bones were perfected with makeup, lighting, and airbrushing. And if you are a male reading this, photos of muscle ripped or toned men do not have much validity; they are just as brutally airbrushed and photo shopped. So, even though the picture suggestion was motivational, and I probably looked good, I did not think so because I was not six feet tall and I was striving to be shaped like something unattainable for my body type.
I feel we need to arm every male and female with this information.

Two things I know would come to fruition. One, imagine how much more stuff we would get done and figure out if we were not obsessing over fitting into a "mold". Second, if we are in touch and balanced with what real beauty is and what is really healthy, that takes most of the pressure off and we would start down the road to being naturally slimmer, even if we have a lot of weight to lose. I am not saying thinking like this is magic weight loss secret. There is still a lot of practicing this thinking and learning how to eat and move to what is comfortable for your body, but knowing this instantly makes you feel lighter in your mind and body.


Next time you wish you were as beautiful as Jennifer Anniston, Jennifer Lawrence, or Emma Watson, remember, you are! You are all beautiful. No matter what you look like or where you stand in life. Beauty is living in your authentic truth, taking care of yourself, being strong, brave, altruistic, and going after your dream.


What is beauty to you? Tell me in the comments below.


Mind-Blowing 'Body Evolution' Video Dramatically Alters Woman's Body With Photoshop
Killing Us Softly 4 - Trailer [Featuring Jean Kilbourne]